Click on the image below to watch the video
When we were children we had the courage to express ourselves, to dream and be whoever we wanted to be.
Then somewhere along the line we changed.
We stopped believing in ourselves and as a result we stopped being ourselves.
We started blaming everyone and everything for not being who we are and becoming who we are capable of.
As Rocky said:
"When things got hard, you started looking for something to blame. Like a big shadow.
Let me tell you something you already know.
The world ain't all sunshine and rainbows.
It's a very mean and nasty place and I don't care how tough you are it will beat you to your knees and keep you there permanently if you let it.
You, me or nobody is gonna hit as hard as life.
It ain't about how hard you hit, it's about how hard you can get hit and keep moving forward.
How much can you take and keep moving forward.
That's how winning is done.
Now if you know what you're worth, go out and get what your worth.
But you gotta be willing to take the hits.
And not pointing fingers saying you ain't where you wanna be because of him or her or anybody.
Cowards do that and that ain't you.
You're better than that."
Now are you ready to go out and get what you are worth?
Do you believe in yourself?
Do you have the courage to express yourself?
Do you really want to be happy?
Now if you want to start your journey to a happier life then grab my book "Follow Your Own Path" which you can access through my website.
It comes with a 60-day money back guarantee. So all the risk is on me.
I promise you that this book will change your life as it's done for many others.
Click on the image below to learn more.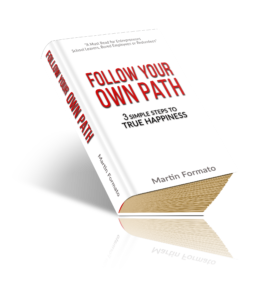 And if you want to progress even faster then book yourself in for a free private one on one life coaching session with me through my coaching webpage.
Click this link for your free life coaching session
Remember giving your gift to the world is the secret to happiness.
Now I would love to hear from you in the comments below, so go there and tell me what you thought of this video?
If you liked it, I would be most appreciative if you shared it with all your friends.
Thank you so much for watching and I'll see you next time.