We provide a 'mobile ready' responsive website design that speaks to and engages your target market.
Services available:
Domain Name Registration
Website Hosting
Website Design
Search Engine Optimization (SEO)
Google AdWords Marketing
Here is what one of our clients have said:
We have known Martin Formato for many years and find Martin to be very good at giving advice and guidance in business and life coaching.
Recently Martin helped us improve our business by developing our website page, placing us on google search, organized our business Facebook account, our Twitter, and Instagram account as well.
We have noticed an increase in customers and growth in our business.
Martin is a very knowledgeable and reliable person with the ability to achieve the tasks he sets out to do and his work is very professional and of a high standard.
We highly recommend Martin Formato for all your website needs and for any life coaching support.
Frank & Lisa Merendino
Directors
Straightline Drilling Pty Ltd
Mobile: 0409 701 127
Facsimile: +61 9279 6885
Website: www.straightlinedrilling.com
Click here to see an example of our work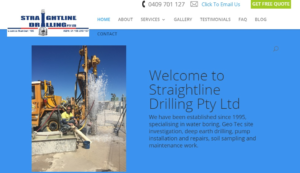 Today only get a standard website design for only $999 (Recommended Retail Value $4,000)
Don't miss out!
Contact us NOW.
Mobile Contact: 0417 012 274
Email Contact: support@martinformato.com
Enter your details below: