Click on the image below to watch the video
I believe that everything happens for a reason and that you were born for a reason.
You have a purpose, a passion and a gift inside of you that needs to come out.
Giving your gift to the world is the secret to happiness.
Please don't die with your gift inside of you.
The only thing keeping your gift locked away inside of you are your fears, limiting beliefs and that critic outside and inside your head saying that you are not good enough.
I'm here to tell you that you are good enough and that I have the key that will help you unlock your gift, so you can develop it and give it to the world.
Now if you want to start your journey to a happier life then grab my book "Follow Your Own Path" which you can access through my website.
It comes with a 60-day money back guarantee. So all the risk is on me.
I promise you that this book will change your life as it's done for many others.
Click on the image below to learn more.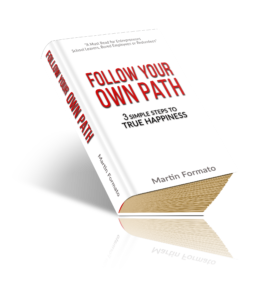 And if you want to progress even faster then book yourself in for a free private one on one life coaching session with me through my coaching web page.
Click this link for your free life coaching session
Remember giving your gift to the world is the secret to happiness.
In the meantime, I wish you a happy, healthy and passionate life.
Take care
Martin Formato
Professional Certified Life and Business Coach
Email: support@martinformato.com
Website: http://martinformato.com