Click on the image below to watch the video
Do You Believe In Karma?
While I was snorkeling I had a thought.
I was thinking about my flight over from Perth to Singapore.
Now I don't normally make a donation on a plane.
But this time when they came over asking for a donation for UNICEF I decided well why not.
So I put some money in the envelope.
Anyway, later that day I went to catch the MRT, the underground railway system in Singapore.
I was putting my money in the machine to buy a ticket and for some reason, the machine wasn't taking my notes and this Singaporean man saw that I was having trouble and came up and put his money in the machine.
When I tried to pay him back he said don't worry about it, it's your gift.
I don't know about you, do you believe in karma?
Well to me that seemed to be a sign of good karma where I did good for other people I don't know and this person came and did good for me.
So there you have it. Do good for others and you will be repaid by someone else along the way.
Now if you want to start your journey to a happier life then grab my book "Follow Your Own Path" which you can access through my website.
It comes with a 60-day money back guarantee. So all the risk is on me.
I promise you that this book will change your life as it's done for many others.
Click on the image below to learn more.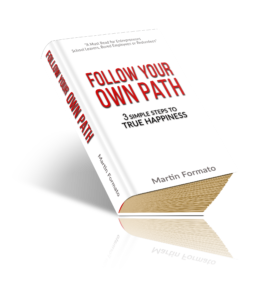 And if you want to progress even faster then book yourself in for a free private one on one life coaching session with me through my coaching web page.
Click this link for your free life coaching session
Remember giving your gift to the world is the secret to happiness.
Now I would love to hear from you in the comments below, so go there and tell me what you thought of this video?
If you liked it, I would be most appreciative if you shared it with all your friends.
Thank you so much for watching and I'll see you next time.