I help those who are stuck in the rat race, unhappy at work and know there is something else deep down they should be doing that will give them the income to work less hours and spend more time with their family.
I also help teenagers that feel stressed, confused or overwhelmed about making a career choice. I help them choose a career that's aligned with who they are, so they can become a confident, independent and unique individual who shines.
I'm the only person that does this using my proprietary system called the "Profitable Career Launcher".
Contact me below if you are ready to launch a passion-filled profitable career.
I would love to help you.
PS. I can also help you overcome daily challenges, issues or concerns.
Mobile Contact: 0417 012 274
Email Contact: support@martinformato.com
Contact me NOW by entering your details below:
You are a gift to the world.
You are unique.
There will never be another YOU.
The world needs that gift that only you can give.
If you had the cure for cancer would you keep it all to yourself or would you give it to the world?
Of course you would give it to the world.
The same goes with your gift or passion.
Do the right thing and give it to the world.
Your creator does not make mistakes.
You have a gift or passion; it's your duty to find your passion, develop it and give it to the world.
This is the only way you will experience true happiness.
Material things don't bring you lasting happiness.
Becoming who you are capable of being brings you lasting happiness.
Your personal qualities are your greatest asset.
It's the journey, the progress, the growth which will bring you the most joy.
Your life is a journey, so spend it doing what you love, your passion.
The way to do this is to find your passion, develop it and live it.
Don't settle for less than you can be.
Live a purpose driven life.
Find your passion NOW by downloading my FREE book.
Simply click on the link or image below.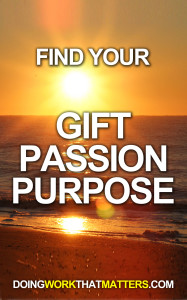 The world is waiting for you!
Martin Formato


Professional Certified Life Coach and Career Coach
Website: www.DoingWorkThatMatters.com
Blog: http://martinformato.com/blog/
Facebook: http://www.facebook.com/doingworkthatmatters
Twitter: http://twitter.com/WorkThatMatter
Instagram: http://www.instagram.com/doing_work_that_matters
Amazon Kindle Books: http://www.amazon.com/Martin-Formato/e/B00M45LI3W
YouTube: https://www.youtube.com/channel/UC_ehfAiip7cBUo-bSdm2uDw