Before departure
Click on the image below to watch the video
Adventurers Wanted
As human beings we have a core need for VARIETY or UNCERTAINTY or ADVENTURE.
Without this need, life becomes very boring.
It is for this reason that I am packing my bags tonight and going somewhere that I have never been before.
I am flying to Singapore and then taking a 4 hour car trip north to Mersing and then a boat ride to a private tropical island in the South China Sea called Tengah Island.
Travelling is a great way to satisfy your need for variety.
Variety means stepping outside your comfort zone and taking a risk.
Let's face it, I don't know what's going to happen and whom I'm going to meet.
That's what makes the trip both exciting and scary at the same time.
Outside your comfort zone is where you learn and grow as a human being.
It's a place where you begin your journey of self discovery and find out who you really are.
Also if you want to succeed at anything you need to step outside your comfort zone because that's where success lives.
And when you step outside your comfort zone you will notice that your comfort zone expands with each step you take.
Anyway enough talking, time to finish packing otherwise I will miss my plane.
I'll do my best to keep in touch along the way.
Part 1
Part 2
Now if you want to start your journey to a happier life then grab my book "Follow Your Own Path" which you can access through my website.
It comes with a 60-day money back guarantee. So all the risk is on me.
I promise you that this book will change your life as it's done for many others.
Click on the image below to learn more.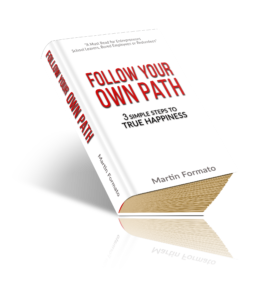 And if you want to progress even faster then book yourself in for a free private one on one life coaching session with me through my coaching webpage.
Click this link your free life coaching session
Remember giving your gift to the world is the secret to happiness.
Now I would love to hear from you in the comments below, so go there and tell me what you thought of this video?
If you liked it, I would be most appreciative if you shared it with all your friends.
Thank you so much for watching and I'll see you next time.